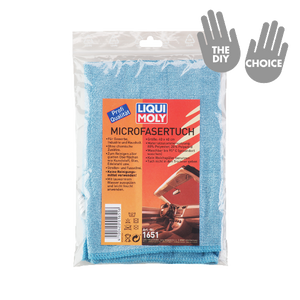 Microfiber Cloth
DESCRIPTION
A microfiber cloth is a special cleaning cloth to remove dirt from nearly all surfaces. Smooth surfaces such as plastic, glass, stainless steel or sealed wooden surfaces receive a streak- and lint-free finish. Cleaning is carried out exclusively by means of microfibers in connection with water. Even when dry, the microfiber cloth is excellently suited for polishing with care products. For cleaning, the microfiber cloth can be washed at up to 95°C without using fabric softener.
PACKAGING SIZE
400mm x 400mm
MATERIAL
88 % Polyester / 12 % Polyamid
BENEFITS
Can be applied without scratching
Can be washed at temperatures up to 95 °C
E

xcellent cleaning effect

Outstanding absorption capacity
AREAS OF APPLICATION
For cleaning tasks in the business, industrial and household sector.
APPLICATION
Clean the dirty surface with the damp microfiber cloth.
Rinse the microfiber cloth several times in clear, warm water.
When manually polishing with care products, use circular movements and slight pressure with the dry microfiber cloth to achieve a shiny surface finish.