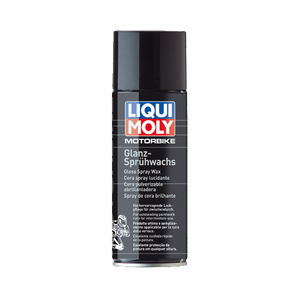 Motorbike Gloss Spray Wax
$1900

$19.00

Save $14
Tax included.
---
---
DESCRIPTION
Wax with good cleaning action and outstanding luster. Slight road dirt and greasy soiling are easily and quickly removed without causing scratching. The super-easy polishing (like wiping off dust) produces a smooth finish with high gloss and very good color depth on all paints and dye types. The resulting protective layer equalizes slight scratches and preserves the paint against weather-related influences. Note: DO NOT spray onto hot surfaces or use in the bright sunshine.
PACKAGING SIZE
400 Millilitres (ML) 
BENEFITS
Excellent long-term protection
High capacity
H

igh gloss mirror finish

Protects against aggressive environmental influences
Removes greasy contaminants and light road dirt
Silicone-free
Super-easy to polish
AREAS OF APPLICATION
For outstanding paintwork care for intermediate use. Optimum sealing properties for paint surfaces to protect against the weather. For colored and metallic paints, new or rejuvenated paint finishes, as well as for quickly preparing new and used vehicles in the show room.
APPLICATION
Quick and easy use minimizes effort. Surfaces which are heavily contaminated must be thoroughly cleaned and dried before treatment. Shake Motorbike Gloss Spray Wax vigorously before use. Apply thinly and uniformly onto the paint surfaces. Only treat one section at a time. After allowing to air for a short time, wipe surfaces with a soft cloth or Microfiber Cloth (part no. 1651) polishing at the same time. If necessary, use a dry cloth for polishing.