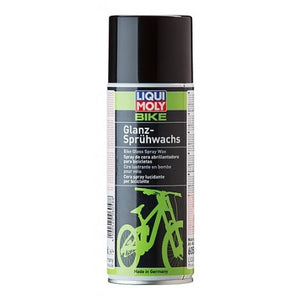 Bicycle Gloss Spray Wax
$2500

$25.00
Tax included.
---
---
DESCRIPTION
Cleans and preserves bicycles. Gives all paint and color finishes a smooth surface with a brilliant shine and outstanding depth of color after easily polishing. The protective layer left behind smooths out scratches and protects the paint from the weather. Light road grime and greasy contaminants can be removed quickly and easily without making scratches.
PACKAGING SIZE
400 Millilitres (ML) 
APPLICATION
Surfaces which are heavily contaminated must be thoroughly cleaned with Bike Cleaner (part no. 6053) and dried before treatment. Then spray on a thin coat of Bike Gloss Spray Wax, let dry and polish with a soft rag or microfiber cloth. Shake can before use.