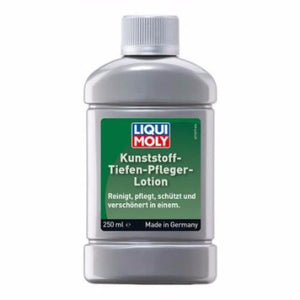 Plastic Deep Treatment Lotion
$1650

$16.50
Tax included.
---
---
DESCRIPTION
Plastic Deep Treatment Lotion was specially developed to protect, treat and enhance the appearance of all plastic components on the motor vehicle. Plastic Deep Treatment Lotion gives even the most badly weathered plastic surfaces a matt-silk deep sheen which repels dust, dirt and water as well as giving the plastic anti-static properties all in a single process. It is the optimum protection against aggressive environments and UV radiation.
PACKAGING SIZE
250 Millilitres (ML) 
BENEFITS
Protects and cares for all plastics
Repels dust, dirt and water
Simple to use
Produces a matt-silk deep sheen
Can be used for inside and outside storage
AREAS OF APPLICATION
Specially developed to protect plastic surfaces on the motor vehicles such as camper vans and camping equipment, boats, sports items and the household. For internal and external use.
APPLICATION
First clean the parts to be treated.
Shake Plastic Deep Treatment Lotion vigorously before use.
After this, apply to a soft cloth and rub in lightly.
If necessary, rub again using a dry cloth. Regular application gives the optimum appearance.