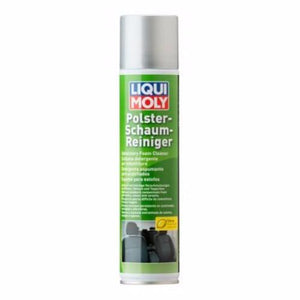 Upholstery Foam Cleaner
$1150

$11.50
Tax included.
---
---
DESCRIPTION
Upholstery Foam Cleaner is an active foam cleaner which has been specially developed for gently and quickly removing dirt from various types of upholstery, velours, carpets and vehicle coverings. Upholstery Foam Cleaner forms crystals as the foam dries out, freshens the colours on the parts which have been cleaned but does not leave any dirty edges after treatment.
PACKAGING SIZE
300 Millilitres (ML) 
BENEFITS
Gently cleans upholstery, carpets, covers and textiles
Simple to use
Freshens up colors
AREAS OF APPLICATION
Particularly gentle cleaning effect on upholstery, carpets, velours, vehicle covers and textiles etc.
APPLICATION
Shake vigorously before use then spray onto the surfaces to be cleaned to produce a foam.Allow to act depending on the degree of contamination (2-5 minutes).
Rub in using a brush in order to remove stubborn contaminants.
Wipe off residues with a damp sponge (distilled water) or allow to dry and then vacuum.
Repeat process in case of heavy soiling.