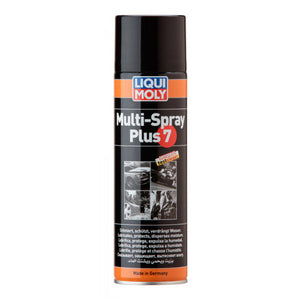 Multi-Spray Plus 7
$1250

$12.50
Tax included.
---
---
DESCRIPTION
Multi-Spray Plus 7 is a combination of different agents with excellent corrosion protection, rust removing and water-displacing properties as well as an outstanding lubricating effect.
PACKAGING SIZE
500 Millilitres (ML) 
BENEFITS
Does not attack plastics, paints, metals and wood
Dissolves rust
Eliminates squeaks
Friction and wear reducing
Good corrosion protection
Good water resistance
Optimum penetration properties
Releases dirt
Silicone-free
Universal application
AREAS OF APPLICATION
The outstanding and many-faceted properties of Multi-Spray Plus 7 lead to a wide range of applications in the factory or workshop and in the area of hobbies and motor vehicles, and even at home.
APPLICATION
Spray onto surface with the aerosol, air spray can or spray gun or apply by immersion, brush or wiping.