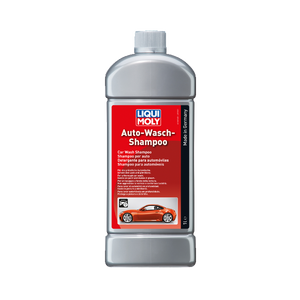 Car Wash Shampoo
$1900

$19.00
Tax included.
---
---
DESCRIPTION
Specially developed for gently and effectively cleaning the surface of paintwork. Using thoroughly biodegradable washing agents, Car Wash Shampoo removes without trace dust and oily or greasy contamination. The finely pored foam preserves paint, rubber, plastic and glass.
PACKAGING SIZE
1 Litre (L) 
BENEFITS
High washing and cleaning efficiency
Outstanding de-watering effect
Produces a very good sheen
Suitable for polycarbonate
APPLICATION
Before using a sponge, rough dirt has to be removed with high pressure resp. with a strong water jet.
Shake Car Auto Wash Shampoo vigorously before use and then mix with water. 50 millilitres (ML) of the product (approx. 5 capfuls) is sufficient for 10 litres (L) of water.
Apply the mixture using a sponge to the paintwork to be cleaned and spread out for cleaning.
After this, rinse well with water and leather the surface.