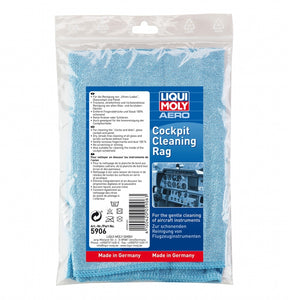 Cockpit Cleaning Rag
Specially developed by LIQUI MOLY for aircraft and helicopters.
Unsuitable cloths or even paper make tiny scratches on the surfaces.
Where liquid glass cleaners are used, fluid can penetrate the machine and cause fatal damage.
LIQUI MOLY AERO Cleaning Rag:
Suitable for cleaning all kind of flight instruments, glass cockpit and panel
Ensures dry, streak-free cleaning of all glass and acrylic surfaces without trace
Gently removes fingermarks and dust
Does not cause scratching or sliming
Also suitable for cleaning the inside of the cockpit windshield
LIQUI MOLY AERO Cleaning Rag has been specially tailored to the needs of general aviation.
Content: 1 piece