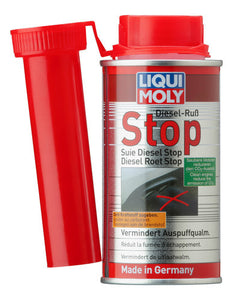 Diesel Smoke Stop
$600

$6.00

Save $9
Tax included.
---
---
DESCRIPTION
Highly effective additive combination to reduce soot emissions through accelerated soot combustion. Burns soot particles cleanly and quickly thanks to selected agents. Avoids unpleasant odors and impairment of visibility. Reduces the frequency of repair.
PACKAGING SIZE
150 Millilitres (ML)
BENEFITS
Good corrosion protection
Improves the turbidity value
Self mixing
Eliminates diesel knocking
Does not contain heavy metals
High engine cleanliness
No smell
Reduces soot emissions
Keeps injection nozzles clean
Prevents seizing and cold welding
AREAS OF APPLICATION
For all passenger and commercial vehicle diesel engines without diesel particulate filter as well as stationary diesel engines.
APPLICATION
150 ml sufficient for 50 l of diesel fuel, i.e. 1:333. Pour the contents of the can directly into the tank before filling up with fuel. For the optimum effect, add every time you refuel.