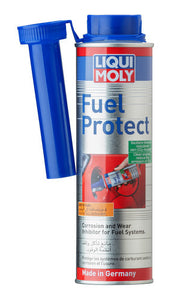 Fuel Protect
$600

$6.00

Save $8
Tax included.
---
---
DESCRIPTION
Ash-free, self-mixing combination of active agents according to the latest additive, fuel and engine technology. Specially developed to satisfy the demands and operating conditions of today's engines. Prevents corrosion problems in the fuel system and thus prevents operational malfunctions.
PACKAGING SIZE
400 Millilitres (ML)
BENEFITS
Binds and removes water
Good corrosion protection
Tested for turbochargers and catalytic converters
Environmentally friendly
Prevents carburetor icing
Economical
AREAS OF APPLICATION
For all gasoline engines, specifically when used with fuels slightly contaminated with water.
APPLICATION
Add to fuel whenever filling up. 300 ml sufficient for 60 l fuel.