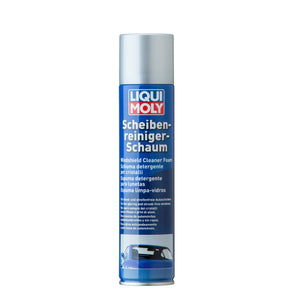 Windshield Cleaner Foam
$1100

$11.00
Tax included.
---
---
DESCRIPTION
Highly effective foam cleaner. Ensures glare-free vehicle windows and good visibility. Dissolves and removes silicone, nicotine, insects, and oily and greasy residues. Suitable for polycarbonate and does not attack rubber, paints or plastics.
PACKAGING SIZE
300 Millilitres (ML) 
BENEFITS
For indoor and outdoor use
Excellent cleaning effect
Takes effect quickly
High capacity
AREAS OF APPLICATION
For internal and external cleaning of vehicle windows, particularly after window repairs. Also suitable for mirrors and headlights in the passenger car and commercial vehicle sector as well as for windows, mirrors, etc. in the household and in trade.
APPLICATION
Shake can before use. Spray evenly onto the surface to be cleaned, allow to act, then wipe off with a clean cloth or paper towel.