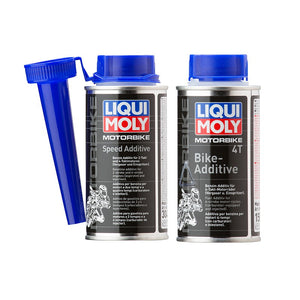 Speed and 4T Additive Bundle
$2000

$20.00

Save $4
Tax included.
---
---
Speed and 4T Additive Bundle


MOTOR­BIKE 4T BIKE-ADDITIVE 1581
Increases engine performance. Removes deposits in the fuel system, on valves, spark plugs and in the combustion chamber and prevents renewed formation. This also reduces fuel consumption. Protects the entire fuel system from corrosion. Prevents carburetor icing. Cat tested.
MOTOR­BIKE SPEED ADDITIVE 3040
State-of-the-art, ash-free combination of agents with acceleration-enhancing, cleaning, dispersing and material-protecting properties. The product has been formulated using state-of-the-art additive and fuel technologies in accordance with the requirements of today's engines, fuels and running conditions. Ensures increased driving enjoyment due to optimized performance. The engine starts easier and also runs smoother.