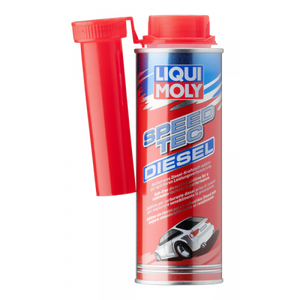 Speed Tec Diesel
$800

$8.00

Save $4
Tax included.
---
---
DESCRIPTION
Speed Tec Diesel is a new diesel fuel additive for combustion improvement and the faster acceleration associated with it, above all in partial load range. Fully compatible with all conventional diesel and biodiesel fuels. Speed Tec Diesel considerably improves vehicle acceleration.
PACKAGING SIZE
250 Millilitres (ML) 
BENEFITS
Does not influence the cetane number
Better drivability
Contains no organometallic compounds
Suitable for diesel particulate filters
Higher performance gain
Tested for the use with catalytic converters
Cleans the injection system
Reduces frictional losses
Improves acceleration
AREAS OF APPLICATION
Add to diesel fuel, especially for vehicle diesel engines as well as suitable for fast vans. For the improvement of vehicle acceleration and smooth operation.
APPLICATION
One 250 ml can is sufficient for max. 70 liters of diesel fuel. Mix the contents of the can with the diesel fuel. Mixing also takes place automatically.