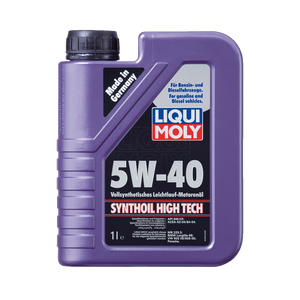 SYNTHOIL HIGH TECH 5W40 1L CAR ENGINE OIL
$3000

$30.00
Tax included.
---
---
DESCRIPTION
Synthoil High Tech SAE 5W-40 is a fully synthetic, high-performance, low-friction engine oil designed for year-round use in passenger motor vehicle engines. Optimum high-performance for multi-valve and turbocharged engines.
PACKAGING SIZE
1 Litre (L)
BENEFITS
Excellent wear protection
Extremely low evaporation loss
High shear stability
Long engine service life
Mixable with all commercially available motor oils
Outstanding engine cleanliness
Rapid oil delivery at low temperatures
Smooth engine running
Tested for turbochargers and catalytic converters
AREAS OF APPLICATION
Optimum for modern gasoline engines with multivalve technology and turbocharging. Especially suitable where there are long intervals between oil changes and heavy duty engine requirements.
APPLICATION
The operating instructions of the vehicle and engine manufacturers must be followed.
SPECIFICATIONS & APPROVALS
ACEA A3 ∙ ACEA B4 ∙ API CF ∙ API SM
LIQUI MOLY'S RECOMMENDATIONS
BMW Longlife-98 ∙ MB 229.3 ∙ Porsche A40 ∙ VW 502 00 ∙ VW 505 00